"Not a drop of coolness will be missed…"
Greek artist Jamoan (a.k.a. Akis Theotokatos) and his personal project returns with a new song (after a year and a half following his latest album "Eironeia" (=Irony) that was released on 2019) and presents the new single / video "S'ena Kosmo Magiko" distributed by Ikaros Records. You can watch the new single / video directed by Babis Michalopoulos in this article and, of course, you can listen to it on Radio Falš.
A new beginning, fresh songs and an incredible appetite for the single purpose of sharing his music and his concerns with his audience.
A few words about the artist
He has taken part in multiple Greek discography projects and, especially, in most productions by the label Freestyle Productions. He has been a guitarist in Active Member (low bap) for more than 15 years and a member of the project La Bruja Muerta.
Simultaneously, he has written music for theatrical plays (Federico Garcia Lorca's "Bloody Wedding" adapted by Athena Pappas, "Testimonies" by Stathis Grapsas, "A Celebration at Nourian's" by Vassilis Koukalanis) and documentaries ("Economic Hitman" by the journalist Stelios Kouloglou), as well as for various short films.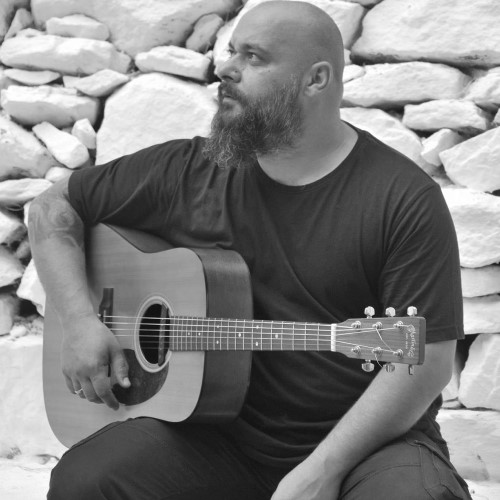 His musical journey as 'Jamoan' began in 2015 in collaboration with musicians and technicians from his circle of friends having great knowledge and experience, and, above anything else, a taste and love for a common vision; to express themselves and communicate with the audience through their music which now moved within alternative rock soundscapes. As 'Jamoan', he has created 3 albums: "Apeitheia" (=Defiance) (2015), "The Fall of the Gods" (2017) και "Eironeia" (=Irony) (2019).
Information about the new single / video
The recordings and mixing took place at the studio '133' by Michalis Skarakis and the mastering was performed by Nassos Nomikos (VU Productions Mastering Studio). The video production was a collaboration of Ikaros Records, Ms Tick Productions, Babis Michalopoulos (who has also directed the clip) and Jamoan. Marilena Moschou participates in the video clip and the make-up was done by Anatoli Panidou.