Too Punk For Heaven, Not Punk Enough For Hell!
In the last couple of years of uncertainty, there's one thing we know of for sure, it's that MADcore (mum and dadcore) punks Radio Rejects have been hard at work prepping, not for the end of mankind, but to release their debut album "Too Punk For Heaven, Not Punk Enough For Hell", released worldwide on Friday 23rd, July 2021.
13 tracks of their unique brand of throwback 4 chord punk rock mixed with humor and hilarity that all walks of life can relate to. With titles such as "I May Be Straight Edge But Im Totally Addicted to You", "That Guy" and "Craig from Batfoot has a crush on me", you know that the age of being too damn serious is behind them and good times lie ahead!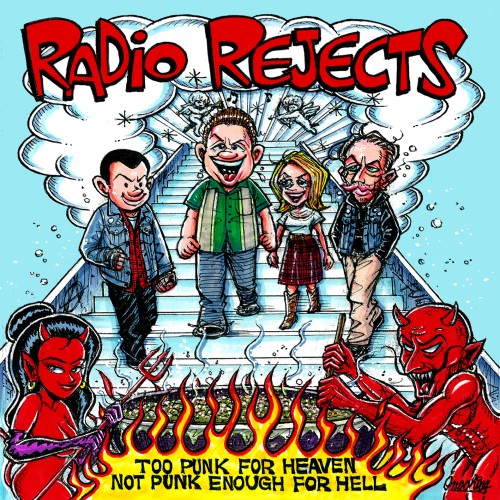 Release Info
The album itself will be released on 3 different platforms, including limited pink Vinyl, which comes with a CD of the same album and some extra goodies. The great folk at Endless Detention Records have been kind enough to distribute the madness through their store, which punk rock families can pre order now through their website. CDs will be made exclusively available a week prior to the release with pre orders filling up every day and available to send out on Friday 16th July! The Radio Rejects debut album will be released worldwide on all major streaming platforms on July 23rd.
Biography of Radio Rejects
Hailing from South Coast NSW, Australia, Radio Rejects, are a 4 piece punk rock band playing those throwback punk tunes that used to be. A mix of 4 chord skate punk and catchy melodies, they bang out their blend that keeps the feet tapping, the drinks swelling and the crowd singing!

In a world that's so serious all the time, the Rejects take pride in putting the fun back into punk with their hilarious lyrical content, their live energetic show and the always fun crowd interactions.
Bringing noise, nostalgia and a never serious approach back to the punk rock era, the Radio Rejects film clips are always a treat, usually show casing some kind of hilarity and fun and getting their friends and family involved along the way. Always keeping it DIY, the clips are also written, shot and chopped by Radio Rejects front man Smith. .Check out some of their clips on YouTube!