It has been fifteen years since Beat Zeller had met The Guilty Hearts in Los Angeles when they agreed to release an album. In Voodoo Rhythm Records series 'upload oldies but un-goldies', we've got an action packed dessert of guitar-noise-punk-rock mixture from the amazing, one and only… The Guilty Hearts with their first album!
This primitive lo-fi combo is made up of 3 generations of native Angelinos steeped in the city's culture, Angst, and excess. Hermann Senac, the group's elder statesmen, is L.A. punk rock royalty, having co-founded cow-punk innovators Blood on the Saddle. Hermann's primitive pounding can also be heard on records by Crowbar Salvation/Marty Nation & Ace Farren Ford (Child Molesters), Loafin' Hyenas (w/Rob Ritter & Tex Edwards, Click Morte) & more.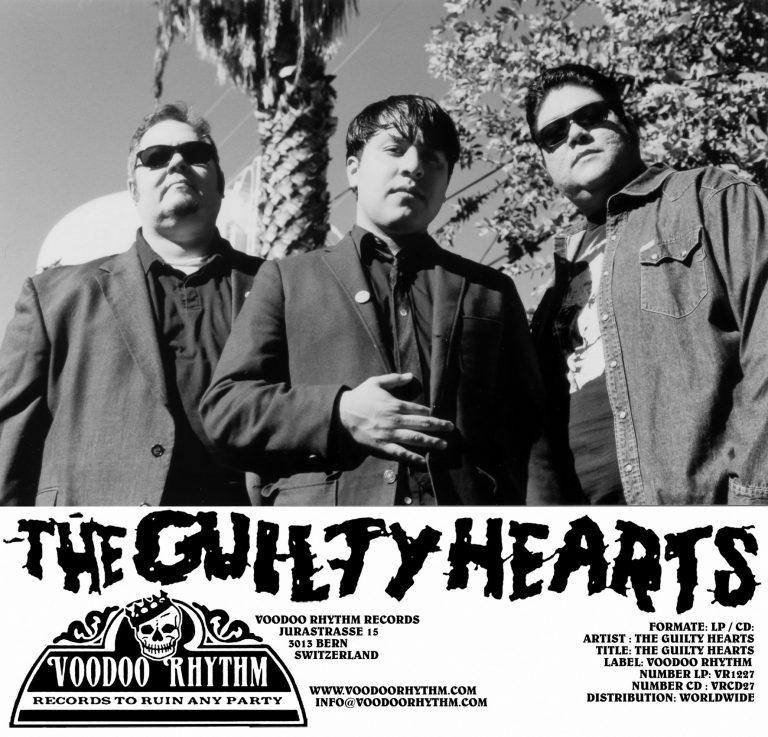 Edgar Rodriguez, the fucked up fuzz guitarist, spent his most recent years laying down bass with The Rippers. The Rippers were a short lived Los Angeles band that appeared on the L.A. Shakedown compilation, but served to unite Edgar and Leon as a strong songwriting duo.
Leon "Catfish" Zalez, the youngest member of The Guilty Hearts, also did time in The Rippers. He brings to the table his wild guitar, his tortured words and his screaming harp. In other words… The Guilty Hearts from L.A. brings you the freshest Rock 'n' roll and Blues Trash for decades… In the spirit of The Gun Club – They'll kick your head to moon and back!
Three more reasons why you should listen to The Guilty Hearts!
Members of Blood on the Saddle, The Cramps and Loafing Hyenas!
Garage Rock 'n' Roll Blues Punk from L.A.
Touring the USA and Europe with John Schooley
What are you waiting for? Click here and listen to The Guilty Hearts and many other Garage Rock 'n' Roll Blues Punks on yours truly – Radio Falš!